Web Development Services
We provide web development and design services that represent your brand flawlessly. Our web development services will lay the foundation for your business's strong online presence.
Stylish and Professional Designs

A stylish and functional website will increase overall traffic and engagement. Our developers will make sure that your website can capture your audience's attention through form and function. We will work with you to find the best appearance, layout, and visual flow that provides the best web design for your business.

Intuitive UI and UX

The number one rule of web design is that it must be easily readable and understandable by your users. They should be able to find the information they need without any problems. Our web development services prioritize a smooth user experience like no other.

Designed and Optimized for SEO

Footprint.io also specializes in creating websites that focus on optimizing SEO. We ensure that our websites are easily searchable, mobile-friendly, and can rank high in Google metrics. From speed to user engagement, we'll have what you need covered.
Work with Footprint.io Today
Footprint.io specializes in website development and design services. We ensure that our clients are satisfied by providing high-performing and feature-packed website experiences. Our experts have the proper experience, knowledge, and tools to provide a user-friendly, fully functional, and stylish website for your business.
Outcome Focused

Our experts will help you find strategic opportunities to expand your online presence. We always focus on providing a high-quality customer experience with our websites.

Rapid and Reliable Product Delivery

Our teams use the Agile methodology, ensuring that our clients are always in the loop throughout the project cycle. We have a streamlined system to ensure we deliver our projects on time. We will design websites that match your goals, timeline, and budget.

Expert Web Developers & Designers

Our developers and designers are highly experienced in making websites for various types of businesses, from small family companies to huge corporate franchises. Our experts are trained and certified across a variety of platforms.
HTML5 Web Development & Design

Footprint.io provides HTML5 web development and design services. We can provide a complete HTML5 website for your specific business needs. We optimize our HTML5 for high performance, with fast loading times and responsiveness even during peak visitor traffic.

Enterprise Web Design & Development

Footprint.io has also worked with enterprise-level clients to build high-performing and secure websites that focus on professional and unique designs for their business enterprise. Whatever website project you need, we have the experience and tools to help you achieve your goals, even exceed them.

Experts in Digital Marketing

We also have experts in the field of digital marketing. Our experts specialize in SEO, content marketing, social media management, and more. If you want your website to succeed in the current market, you'd want to utilize the power of digital marketing.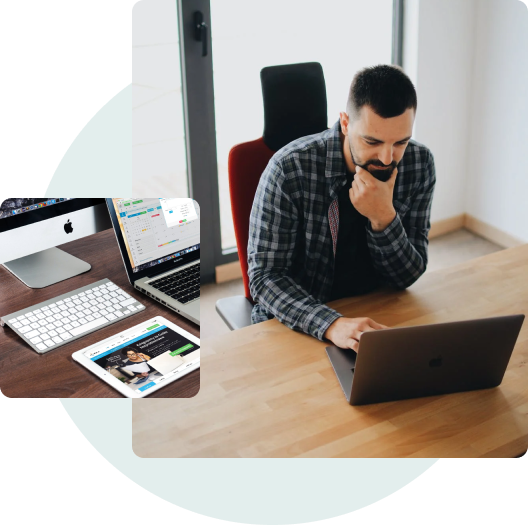 "Michael and his team have brought my vision to life through building on online home for my community. I highly recommend Footprint for web design and development!"

CNY Fertility

Erin McCollough,

Chief Marketing Officer

"Terrific team here, great response time and diligent service. Love the new site - thank you!!"

SOLEIMAN LAW

Matthew Soleimanpour,

Managing Partner

"Great service all around. Professional. Quality work, delivered on time. 100% recommended."

Nicolás Muiño Diseño Gráfico

Nicolás Muiño,

Digital Designer

"Michael was great to work with. Very helpful, quick to respond and professional. Would definitely have him build me another site in the future."

Blue Aspect Properties

Jarrett Vaughan,

Managing Director